Flat BNC membranes can be manufactured in different ways. In addition to the widely used stationary method, the MMR-Tech also enables process-controlled design of function-determining properties. These include surface structures, nanofiber network architecture, and even a multilayer structure can be realized with our method.
Dimensions:
200 x 100 x 3 mm (initial moist)
200 x 100 x 0,03 mm (hot-pressed)
Our BNC membranes and hybrid membranes feature process-controlled permeability for gases and liquids.
Permeation rate (water vapour): 14 g.mm/m2.day.
Permeation rate (oxygen): 1.5 N.cm3.mm/m2.day.atm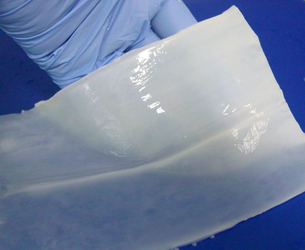 By using additives during or after biosynthesis (see also BNC composites), drying processes and many other influencing possibilities, the properties can be further influenced. Due to the growing interest in sustainable products, BNC membranes, whether initially wetted or dried, are increasingly coming into the focus of science and industry in the fields of packaging materials (smart, antimicrobial packaging for food), electronics (biosensors, supercapacitors), cosmetics (face masks, replacement of microplastics in peelings and creams), medicine (wound dressings, drug delivery), and many, many more. In close cooperation with partners from university and medical institutions, our MMR-Tech membranes have found their way into the research market for drug delivery systems from wound dressings.
Please contact us! We would be happy to develop new, sustainable products for you and together with you!
Further literature:
Alkhatib, Y., Dewaldt, M., Moritz, S., Nitzsche, R., Kralisch, D., & Fischer, D. (2017). Controlled extended octenidine release from a bacterial nanocellulose/poloxamer hybrid system. European Journal of Pharmaceutics and Biopharmaceutics: Official Journal of Arbeitsgemeinschaft Fuer Pharmazeutische Verfahrenstechnik E.V, 112, 164–176.
Karl, B., Alkhatib, Y., Beekmann, U., Bellmann, T., Blume, G., Steiniger, F., et al. (2020). Development and characterization of bacterial nanocellulose loaded with Boswellia serrata extract containing nanoemulsions as natural dressing for skin diseases. International Journal of Pharmaceutics, 587, Article 119635.
Klemm, D., Cranston, E. D., Fischer, D., Gama, M., Kedzior, S. A., Kralisch, D., et al. (2018). Nanocellulose as a natural source for groundbreaking applications in materials science: Today's state. Materials Today, 21(7), 720–748.
Moritz, S., Wiegand, C., Wesarg, F., Hessler, N., Müller, F. A., Kralisch, D., et al. (2014). Active wound dressings based on bacterial nanocellulose as drug delivery system for octenidine. International Journal of Pharmaceutics, 471(1–2), 45–55.
Müller, A., Ni, Z., Hessler, N., Wesarg, F., Müller, F. A., Kralisch, D., et al. (2013). The biopolymer bacterial nanocellulose as drug delivery system: Investigation of drug loading and release using the model protein albumin. Journal of Pharmaceutical Sciences, 102(2), 579–592.
Müller, A., Zink, M., Hessler, N., Wesarg, F., Müller, F. A., Kralisch, D., et al. (2014). Bacterial nanocellulose with a shape-memory effect as potential drug delivery system. RSC Advances, 4(100), 57173–57184.
Thomas, S., & Pottathara, Y. B. (2020). Nanocellulose based composites for electronics. Elsevier.